Esprit Gourmand was born of the resilience of one man, Kourken Najarian, before continuing to grow thanks to the commitment of the third generation, embodied by Éric, Didier, and Catherine. Brothers and sister who today bear the responsibility for this success story.
The company, based in Les Pennes-Mirabeau, between Marseille and Aix-en-Provence, brilliantly combines thetradition of ancestral skills such as the use of copper balls for caramel, with innovation to meet the new challenges of their customers.
Every day, 40 people work in the factory to transform and ennoble exceptional dried fruits. Around them, thirty or so people are busy promoting this unique offer, which has been rolled out in France and is now going international.
Marc Gastel, Marketing Director of Esprit Gourmand, talks to Journal des Palaces about the uniqueness of Esprit Gourmand.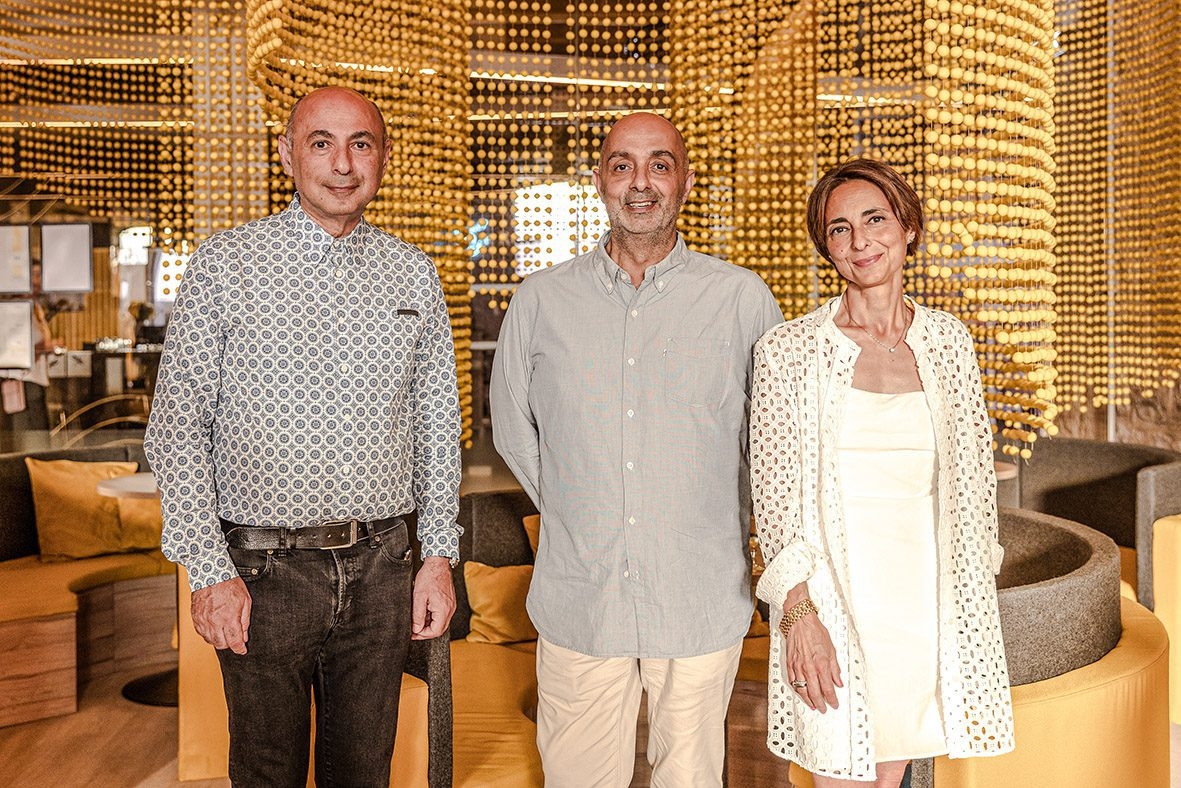 Journal des Palaces Interview
Journal des Palaces: When and how was Esprit Gourmand created? What is the company's DNA?
Marc Gastel: Esprit Gourmand is a family story that began in 1922 with Kourken Najarian, Eric's grandfather, who is currently at the helm of the company. Like many other Armenians at the time, he had fled the dramatic events in his native country and arrived in Marseille, where he exported walnuts to his cousin in the United States.
He gradually expanded his business by choosing to roast the nuts himself, which he then sold retail. Today, Esprit Gourmand is the oldest dried fruit roaster still operating in France. In the 1990s, an initial order from a major luxury hotel on the Côte d'Azur marked a turning point for the company, which began to specialise in this market.
The Najarian family really put their name to it, taking responsibility for the quality of both their service and their products. Dried fruit often doesn't get the recognition that coffee or chocolate do. Éric Najarian has really instilled this desire to work on detail, to restore dried fruit to its former glory.
The company cultivates both modernity and tradition through original creations and great classics.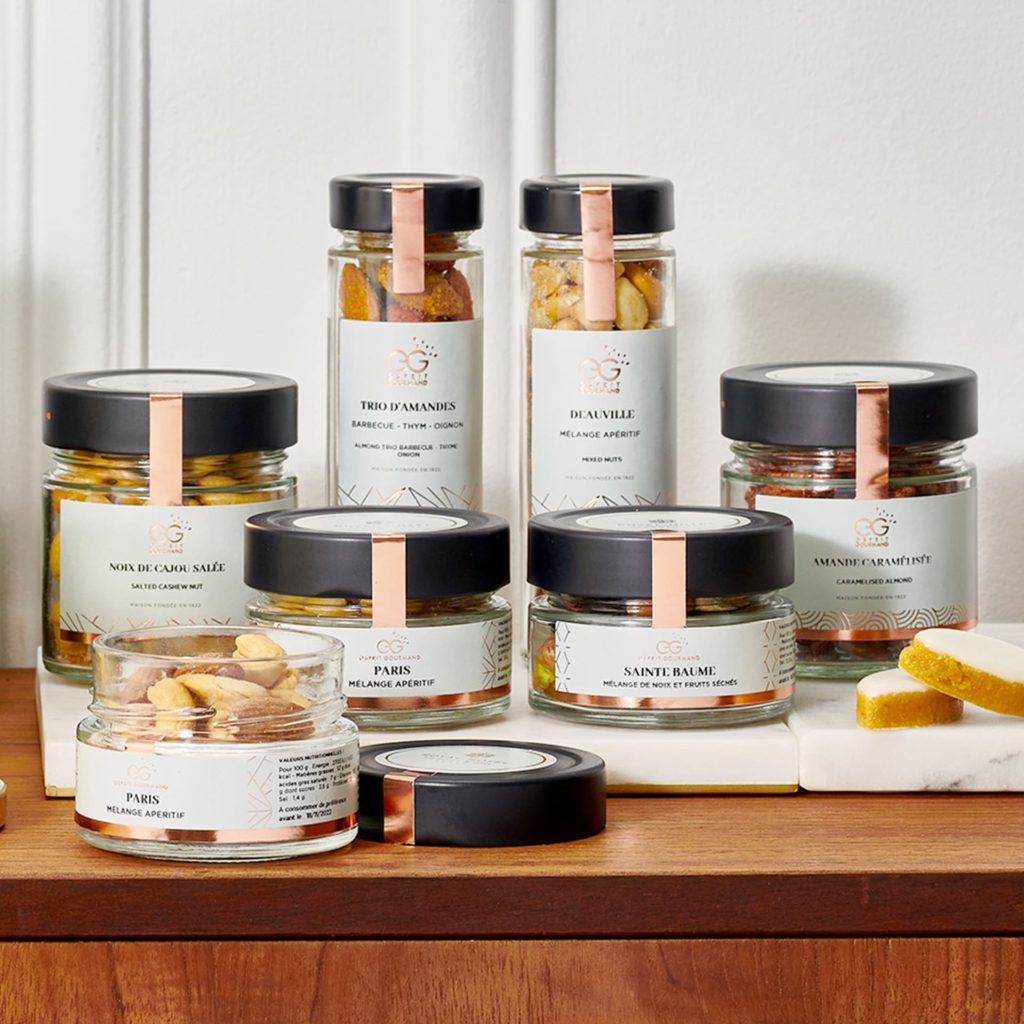 What is your vision of luxury?
Luxury is a state of mind. Of course, there's attention to detail, a kind of intransigence with 'the ordinary' or 'the acceptable', but there's also a right appreciation of the moment, a deep understanding of what's needed.
Far from the glitz and overkill, we believe that luxury can and should be expressed through simplicity, obviousness, and aptness. At a time when people are being urged to create and live ever more powerful, incredible, and original experiences, we believe that knowing how to accompany a special moment with elegance and discretion is a true mark of a luxury property.
That's why we spend a lot of time tasting, testing flavour combinations, cooking, etc., and why we offer tailor-made development.
What types of products do you offer?
We provide several services to the hospitality industry. Our flagship products are, of course, roasted and flavoured dried fruit for the bar and minibar. We have a wide range of gourmet products for reception, breakfast, kitchens, and even spas.
As specialists in dried fruit, we work with dried fruit in all its forms. In pastry-making, our customers may need almond powder, slivered almonds or just-roasted hazelnuts.
We offer dedicated breakfast ranges. We design our own exceptional granolas, using a special oven. This is a popular product, as it is often disappointing in the traditional market. We also create a spread, and we've decided to source and deliver honeys and jams that we select for their level of quality too.
We are increasing the number of tailor-made developments. The specifications are sometimes a little broad, and we take this approach to its ultimate conclusion, thinking about an almond and its flavouring, for example. We give ourselves the freedom to improve and manufacture products without cost necessarily being a limiting factor. We'll look for a PGI rosemary, or work with a small producer, if we judge that there is a real taste interest in creating an incomparable product.
Who are your contacts at the hotels you work with?
It depends on the size of the property.
The F&B manager is our main contact, for the bar, minibar, or breakfast. We also work with the housekeepers for amenities and spa services.
Chefs and pastry chefs also come to us with many customised requests.
Which prestigious brands and properties in the luxury hospitality industry do you work with? Could you give some examples of creations for these properties?
The list is long because we have the honour of serving all the palaces in France, and the vast majority of 5-star hotels, including the Lutetia and the Four Seasons Hotel George V in Paris, and the InterContinental Hôtel Dieu in Marseille.
We have a catalogue of almost 800 references. Of course, we fine-tune our products by adapting our flavourings, in particular, so that they match perfectly our customers' wishes. For example, we have a macadamia nut with cubeb pepper in our catalogue, but at the request of the Restaurant Director at the Ritz Paris, we slightly adapted this recipe specifically for this property so that it met his expectations.
Our bestseller was also created at the request of a luxury hotel. The cashew with truffle was requested by Fouquet's some twenty years ago.
Has a customer ever placed an unusual order with you, and if so, what was it?
Occasionally, properties contact us to have a particular item delivered urgently, something that one of their guests has liked. Either to the hotel or directly to the guest's home. These are the types of services that we know how to provide and which are much appreciated.
One notable anecdote: a Saudi princess, who was staying in Megève, wanted to bring back products to her country to give to her relatives. She had a limousine sent from Megève, and we had to prepare the order during the journey, before the limousine arrived.
What are the requirements of the hotels you work with? Have these requirements changed?
As well as the demand for quality and regularity, responsiveness is a key factor because our customers are sometimes taken by surprise and want to receive their orders as quickly as possible. This is a real challenge for us because, to ensure optimum freshness, we prepare the products to order.
The creation of granolas came about at the request of our hotel partners. Disappointed with the product proposals they were receiving, they asked us to work on them, and we designed this range of products so that they could enjoy a product that matched their level of excellence.
Lately, we've noticed that criteria relating to eco-responsibility are becoming more and more present and important, and we're delighted about that!
You emphasise the extreme customisation of your approach and your products. Could you say more about this and give some examples?
This is a real strength of our structure and a response to the ever-growing demand for differentiation. We realise that it's vital for our customers to offer their guests a unique experience, a trademark, a signature. We support them in this process by offering them an 'à la carte' range of products and packaging.
Furthermore, we have several levels of personalisation, particularly for the packaging. For the minibar, it is possible to have the property's logo affixed to our jars, or to have the label completely personalised to the guest's specifications. We manage this service in-house with our marketing team.
We offer various jars, in glass or recycled PET, of different sizes and capacities, and even the lids can be modified, so there are a huge number of possibilities! Another big challenge for production. Cheval Blanc and the Ritz Paris each have their own made-to-measure pot, the latter in the shape of a diamond. There are few limits to this customisation, from the product to the container.
Do you work on the proposals in your catalogue, or can you work on an 'à la carte' basis, according to specific customer requests?
Once again, we can carry out 'à la carte' product development, with our R&D department handling this part. We are often asked to create customised recipes, which can take some time, as some flavourings are very complex to create, and we make it a point of honour to carry out as many tests as necessary to ensure that the result is up to scratch.
We also work to chefs' specifications. Pierre Hermé asks us for a specific pistachio paste for his creations. Christophe Michalakordered a liquorice praline, while Yann Couvreur asked for a vanilla caramelised pecan.
Despite our best efforts, we have sometimes failed to obtain a sufficiently satisfactory result to meet demand, but we prefer to accept that than to launch a product that doesn't suit us.
How do you stand out from your competitors?
We operate in a niche market, which limits the number of players, but we stand out first and foremost for the taste quality of our products. This is, and always will be, at the heart of our concerns. We are manufacturers: we master the roasting, flavouring, and packaging processes to deliver our customers products of unrivalled freshness.
The vast majority of our competitors don't have production facilities; they simply source different products, more or less industrial, and package them. It's not the same philosophy.
What's more, our offering is truly unique, both in terms of the depth of our range and the services we offer. With over 800 products in our catalogue, not including personalisation, we can provide a truly differentiated service to each of our customers.
How do you ensure that your semi-artisanal skills are passed on to younger generations?
In the case of copper balls, which turn like a concrete mixer, one person will monitor the temperature, and by the noise and smell will know when to turn the heat up or down, and when to take the products out. That's where experience makes all the difference.
Fabrice Vaquer, our production manager and a former pastry chef, has trained his team. For each new recruit, there's a period of learning and adaptation, to acquire this know-how and get the hang of it. The techniques are quite different from one job to the next, and Fabrice ensures real continuity in the know-how and quality of our products.
Could you tell us about the work you're doing on food and beverage pairings?
It's a work in progress and constantly evolving. We're in the process of discussing this with renowned sommeliers who will be contributing their expertise, and we hope to be able to offer recommendations for food and drink pairings, but eventually, each customer remains free to work out their pairing proposal according to their sensibilities.
What is your CSR policy? Your 5,000 m² factory is located in Les Pennes-Mirabeau. How have you developed your processes to embrace this CSR approach?
It's a massive subject, and we're proud of the fact that we've taken many steps over the years to constantly improve our CSR policy. To give you a few examples, we have banned all use of pesticides, generally used for fumigation, in our dried fruit production plants to prevent infestation.
We have worked with a company that has developed with us small plates containing trichogrammes: these are microscopic bees that feed on the eggs of food moths, preventing their development in a completely natural way. In much the same way as ladybirds can be used to combat aphids.
We also have a partnership with a vermiculture farm a few kilometres from the factory, which collects all our organic waste and turns it into excellent compost. Many other projects are underway, including the installation of photovoltaic panels on the roofs of the factories, with a view to being self-sufficient and neutral in energy consumption.
Your packaging is mainly glass, but you've also introduced compostable packaging. Do you monitor the recycling circuit with your customers?
Most of our products are actually delivered in 1 kg compostable bags. Only the minibars and hospitality products, as well as some breakfast products, are packaged in smaller single-use packs.
Today, the collection and processing of compostable packaging is still a work in progress, and we are already in contact with players who are developing these solutions. In particular, we are working with a French cardboard manufacturer to produce our small packaging for hospitality products. We are therefore in the process of testing compostable packaging.
The limitation of this approach is that these compostable bags are not yet part of the luxury codes. Not all properties are ready to adopt packaging that doesn't match the image and positioning they want to adopt.
We have decided to be pioneers, even if everything is not yet in place, because we are aware of the issues involved in reducing the use of plastic. We believe that if more and more industry players, large and small, start to migrate towards these types of packaging, as we have, then the treatment solutions will naturally follow. We need to prime the pump.
Some of our customers are taking the same approach as us and are treating their own organic waste with composters. In these cases, we are really creating a virtuous circle, since our packaging is then composted locally and used to enrich the soil in the kitchen gardens of the chefs of the properties!
You favour local, regional, and national sourcing wherever possible. How do you check the quality of your imported products and their compliance with your environmental commitments?
This is a critical issue for artisanal or semi-artisanal products. Dried fruit is a living product, and its quality can vary from one season to the next. You could almost mention a vintage year, because there are some exceptional years. When there has been a lot of rain, for example, the almonds should be more or less concentrated in flavour, more or less tender. Selecting our raw materials requires real expertise, and Fabrice tastes virtually every batch that arrives and rejects many products to ensure consistent quality.
Éric Najarian spends a lot of time tasting and likes to make sure that the products we receive, such as pecans from the United States, cashews from Vietnam and almonds from France, Italy or Spain, meet our requirements.
Each batch is checked on arrival, and we naturally require our suppliers to provide numerous documents proving their commitment to eco-responsibility. For certain products, such as hazelnuts from Piedmont or pistachios from Sicily, we don't hesitate to visit the producers at harvest time to talk to them and see for ourselves the facilities and measures in place.
In this way, we create a real bond with these suppliers, some of whom we've been working with for over 20 years. They teach us a lot about their products, their terroir and their know-how.
Are your customers sensitive to, or even demanding, these commitments and traceability?
Absolutely.
As I mentioned earlier, we've noticed that eco-responsibility requirements, such as waste reduction, the elimination of plastic and controlled sourcing, are becoming central issues in our discussions with our customers, and we're happy to provide them with the answers they're looking for.
How much of your business is conducted internationally? Do you have any development projects?
Today, around 10% of our turnover comes from exports. We've been working with several international properties for a long time, but recently demand has really picked up. We are therefore setting up distribution partnerships in some destinations to support our rapid growth in these markets, particularly the USA and the Middle East. In particular, we have signed a deal with Fouquet's New York.
Other challenges will come with this expansion of our business, and we are already considering creating tailored offers that meet the specific expectations of these countries. For example, we have already launched the New York sweet and savoury apéritif mix, which is spicier than the French market demands.
That said, we are focusing on controlled growth, to ensure both volume and quality, and always satisfy our regular customers. To absorb this growth, we plan to expand our workshop in Les Pennes-Mirabeau from 2024.
What innovations can we expect from Esprit Gourmand?
There are lots of them!
First, taste, that's our leitmotiv, with many creations in the pipeline. I can announce an original product planned for 2024, a cashew nut with iodised flavours, flavoured with three types of seaweed: wakame, nori and dulce.
And as part of our drive to eliminate plastic, new packaging is currently being developed. We should be able to present some of them when we come to the salon Les Places d'Or at the Hôtel Le Meurice, Paris, in November.